Blog
Dementia
What is dementia?
Dementia is not a specific disease.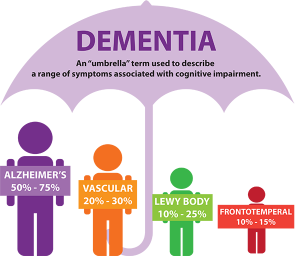 It is a general term for a decline in mental ability severe enough to interfere with daily life.
Diagnosis is made if two or more brain functions such as memory and language skills are significantly impaired without loss of consciousness.
Symptoms
Dementia is the loss of mental functions involving thinking, memory, reasoning, and language to such an extent that it interferes with a person's daily living.
Dementia is a group of symptoms that can include:

Language disturbances (e.g., aphasia, dysphasia, anomia)
Problematic behaviors (e.g., repetitive questioning, wandering)
Difficulties with activities of daily living (e.g., dressing, personal hygiene)
Personality disorders (e.g., disengagement, aggressive behaviors)
Who can diagnose dementia?
A complete medical workup by a physician is necessary to rule out other causes of cognitive impairment and diagnose dementia.
A primary care doctor may refer an individual to a physician who specializes in the diagnosis and treatment of Alzheimer's disease and related dementias.
Specialists include:
Neurologists, who specialize in diseases of the brain and nervous system
Psychiatrists, who specialize in disorders that affect mood or the way the mind works
Psychologists with special training in testing memory and other mental functions
Speech language pathologists cannot diagnose dementia, however, they do play a central role in the screening, assessment, and treatment of individuals with dementia.
Treatment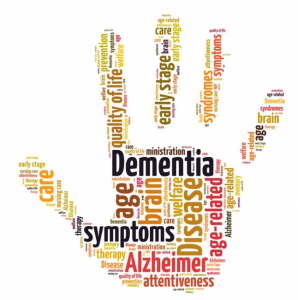 An SLP plays a central role in the screening, assessment, diagnosis, and treatment of persons with dementia. SLPs manage the cognitive, communication, and swallowing deficits associated with dementia. An SLP can help the person with dementia use strategies to preserve communication and cognitive functioning for as long as possible. If the individual has swallowing problems, the SLP can work with the patient to ensure safe swallowing. This may include teaching compensatory strategies such as a chin-tuck posture or altering the person's diet so that he or she can eat without risk of choking or illness.
Strategies to preserve communication and cognitive functioning include:
Using written cues for completing tasks or to assist memory recall.
Developing "memory books" to help recall personal information.
Training family members or caregivers in how to communicate better with the person with dementia.
To ensure safe swallowing, the SLP may teach compensatory strategies or altering the patient's diet.
The ultimate goal of any intervention is to preserve the patient's quality of life.
Be sure to make your goals meaningful to your patient by matching their abilities and drive success.
– Angie