Feeding Therapy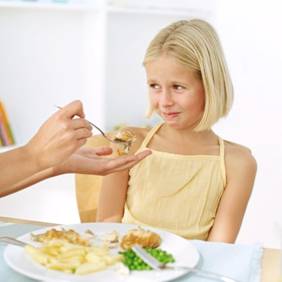 Feeding therapy is designed to teach children how to accept a variety of food tastes and textures. The program is based on the Sequential Oral Sensory (SOS) approach, developed by Dr. Kay Toomey, Ph.D. This program is designed to help children interact with and eventually eat foods, in a playful and non-stressful environment. The SOS approach to feeding follows Toomey's 32 steps to eating hierarchy. This begins with a child simply being able to tolerate food in their presence, and continues on to touching, interacting, tasting, and eventually eating different foods. The approach helps increase a child's awareness and exploration of a variety of food properties, including texture, color, small, shape, and taste
Who Is Candidate For Feeding Therapy?
Therapy Is Designed For Children Who May:
Be Described As "Extremely Picky" Eaters.
Limit Themselves To A Small Number Of Foods.
Only Eat Certain Brands Of Foods.
Have Poor Weight Gain Or Medical Issues Due To Picky Eating.
Avoid Foods Of A Specific Texture Or Texture Combinations.
Have Difficulty Controlling Food Within Their Mouth, Leading To Choking, Gagging, Or Coughing While Eating.