Blog
What is Zenker's Diverticulum?
A diverticulum is a side pocket that forms when pharyngeal or esophageal muscle herniates.
On X-ray, the diverticulum appears as a round balloon that fills with radiopaque material as the patient swallows. After the swallow, the diverticulum usually empties of material (Logemann, 1998)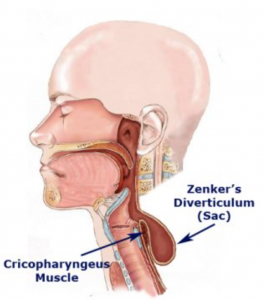 Prevalence
Ranging between 0.01 to 0.11% (U.S.)
1-2 per 100,000 patients/year.
Twice as common in males.
Typically occurs in middle-aged and elderly patients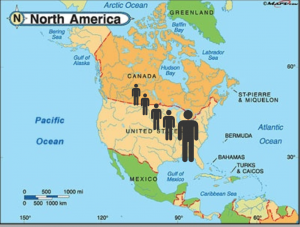 Symptoms
80 – 90% of patients complain of dysphagia
Regurgitation of undigested foods
Halitosis (bad breath)
Hoarseness
Reflux
30-40% of patients describe chronic cough and repeated episodes of aspiration, some with aspiration pneumonia
(Ferreira, Simmons, & Baron, 2007)
Generally treatment for esophageal disorders is surgical or medical.
Sno.
External
Endoscopic
1.
Making an incision on the neck

Cricopharyngeal myotomy
Diverticulectomy
Inversion
Diverticulopexy (suspension)

Done through the mouth
2.
Longer Procedure
The mucosa or muscle that make up the third party wall are divided with an electrocautery laser or an automatic stapler.

Dohlman's (electrocoagulation)
Dohlman's (laser)
Stapling

3.
Longer Hospital Stay (5-7 days)
Shorter Procedure
4.
NG feeds (5 days)
Shorter Hospital Stay (1-2 days)
5.
Oral intake within 24 hours
(Siddiq, Sood, & Strachan, 2001)
SLP Treatment
Compensatory Treatment Procedures

Control the flow of food and eliminate the patient's symptoms (aspiration)

Postural Techniques
Modifying volume and speed of food presentation
Food Consistency (Diet) Changes

Follow Aspiration Precautions
Good Oral Hygiene
(Asofsky, 2017)
Pre-Counseling
During preoperative counseling the speech pathologist will address aspects of care.
These include strategies for:

Effective symptom management
Safety issues
Nutritional and speech therapy support
Coping strategies (Cady, 2002).

Explain what the surgery is and possible dietary changes – NG tube or soft consistency diet
Counsel the patient and answer their questions or concerns.
– Angie