Blog
Response To Intervention: Language Lab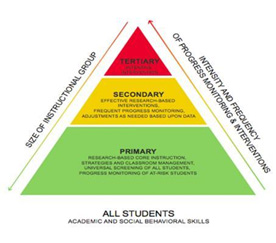 February 15th – Language Lab is a response to intervention (RTI) program run by speech-language pathologists, for elementary school students, grades kindergarten to fourth, whose English language abilities fall below typical grade level standards. Language Lab RTI introduces systematic, research based instruction to eligible students prior to making a special education referral or classification.
Language Lab RTI is a 15 hour, 2-3 sessions per week, evidence based program providing intensive Tier Two or Tier Three language intervention. Tier Two language intervention involves targeting high frequency words used by mature language users; however, Tier Two words present as a challenge because they lack redundancy in oral language. Some examples of Tier Two words are: complex, establish, verify, etc. Tier Three language intervention targets words that are not frequently used except for specific content areas. Tier Three words are essential to help build knowledge and understanding within multiple academic domains. Some examples of Tier Three words refer to medical, legal, and mathematical terms.
The language skills taught in Language Lab RTI are consistent with New York state educational standards and promote strong reading skills in students. Language Lab RTI targets verbs, adverbs, nouns, adjectives, and connected speech. The students who participate in the program are in groups of 2-4 and the program consists of five learning stations: 1. Skill Drill Station, 2. Listen and Learn Station, 3. Talk Aloud Station, 4. Story Station, and 5. Homework Connections Station. Throughout one RTI session participants rotate through four stations (Skill Drill, Listen and Learn, Talk Aloud, and Story). The Skill Drill, Listen and Learn, and Talk Aloud stations teach specific grammar and vocabulary skills. The Story station targets narrative skills. The Homework Connections station provides homework for all stations and is sent home to promote generalization of skills learned.
Language Lab RTI was trialed in three culturally diverse school districts and over 81% of the students in the program progressed at expected or higher than expected rates. The use of Language Lab RTI aided in the early identification of students who needed a referral for a possible language disorder and/or learning difference.
-Justine